« back to texting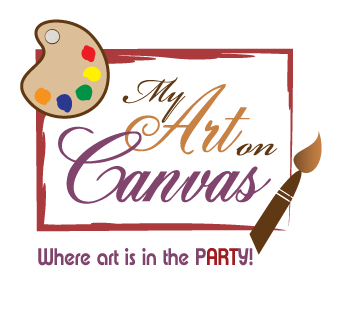 My Art On Canvas
Looking for a fun night out that is new and exciting? Then grab your friends, family, or co-workers and join us for a fun filled class of entertaining art instruction. Combine step-by-step instruction with music and refreshments and go home with a painting you can call your own!! My Art on Canvas is a mobile business that brings the party to your favorite venues, corporate events or living room. Prepare to have an evening full of artsy fun with your friends or while making new ones. All of your painting supplies are provided and our local artists will give you step-by-step instructions to complete your masterpiece! At the end of the event, you'll take home a work of art that you can call your own. You can join us whenever you want – once, once a week, once a moth, for special occasions, or as long as it takes to create a collection that is uniquely yours. We look forward to seeing you at our next event. Visit our calendar to make your reservation.
Contact Information

Kalamazoo
269-303-3510
---
*Message & data rates may apply. Text STOP to quit. Text HELP for help or call 877.571.0774 for support. To opt-out of alerts, text KEYWORD and STOP to 80373 (Ex. STOPWEATHER). Subscribers will receive no more than twenty messages per week when subscribing to any of our Alerts or Offers. No purchase necessary. Marketing text messages will be delivered to the phone number you provide at opt-in.
Approved carriers for texting 80373 are: Verizon Wireless, T-Mobile, Sprint/Nextel/Boost, AT&T, U.S. Cellular, Cellcom and Element Mobile. Sprint users may need to call their customer service representative to have the short code functionality activated on their cell phones. For questions or support, please call 877.571.0774.