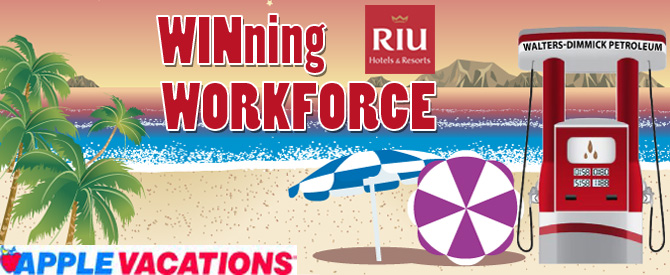 WINning Workforce is Back!
We know you need a vacation. Now you can win an Ultimate Dream Vacation! Seven nights at the Riu Ocho Rios resort in Jamaica with Apple Vacations, America's Favorite Vacation Company.
Your round-trip airfare from O'Hare, Chicago, transfers to the resort, resort meals and drinks resort are covered. All you need to do is enjoy the pools or beach surrounded by Ocho Rios' famous rainforests and spectacular waterfalls.
Just listen weekdays @ 8:15am, 11:15am, 2:15pm, 4:15pm to win $50. free gas and your Jamaican dream vacation. You deserve it!
Sponsored By: Riu Ocho Rios and Walters-Dimmick Shell