WINning Workforce
It's That Time of Year Again
Hotel RIU Yucatan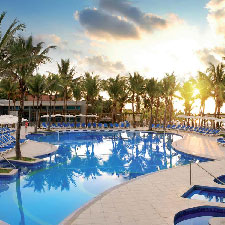 WIN your Trips and Tanks this fall on WIN 98.5's WINning Workforce! Let Apple Vacations take you to the RIU Yucatan, where your Caribbean oasis awaits. Then it's to the beaches, snorkeling, wind surfing, fresh water swimming pools, jacuzzis, a massage or golf by day. Enjoying cuisines from around the world before a show, dancing at La Pinata Club, or topping off the night at a beach party.
Easy win
just register, listen, and call back
It's easy to WIN, register here and listen for your name to be announced on WIN 98.5 weekdays at 8:15am, 11:15am, 2:15pm, and 4:15pm. Call back within 30 minutes to score $50 of free gas from Walters-Dimmick Petroleum and you're qualified for the trip you deserve at the RIU Yucatan, Riviera Maya, from Apple Vacations, America's favorite vacation company.
Rules
outline of how to win
Fill out the registration form below
Listen during weekdays at 8:15am, 11:15am, 2:15pm, and 4:15pm
If your name is called, you have 30 minutes to call the station
We have 3 request lines you can call:

269-968-9899
269-324-9899
517-278-9899
Register here
A Chance to fill your tank or win a trip