A Country Love Note for Your Valentine
Tell Us How You Feel
Tell them how you feel and you could win their heart and a gift on WIN 98-5's Country Love Notes with Verizon Wireless. We'll post them here for your Valentine and you could win a night full of music! Spend the night with Justin Moore, Randy Houser, and Josh Thompson at Wings Stadium March 14th! Dazzle her with a King Jewelers gift certificate or make it a date night at Goodrich Theatres.
Write Your Love Notes Here
Write your love notes here and win their heart this Valentines Day! Grand Prize drawing February 12th, 2014.
Special Thanks
King Jewelers, Cirilla's, and "Quality" Goodrich Theatres.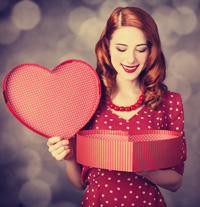 Valentine Love Notes
From: Dennis Martin
To: Joyce Farnan-Martin
Still in love after 35 years. Happy Valentine's Day, Joyce.
From: Jody Henning
To: Brandon Henning
Brandon has been my salvation! He is my true partner and soul mate. He makes me smile like no one else. He makes me feel beautiful, and cherished daily! He is an amazing father, stepfather, and husband! And I feel so lucky to be loved by him! I love you!
From: Garrett Yorton
To: Brittney Schmuhl
Roses are red my tuck is blue the bed of my truck is made for me and you. I love you so much!
From: Eugene Brown
To: Emmy Burrows
When i first seen you were beautiful .just someone in passing I had to stopped you & laid eyes upon you. It was like sunshine peaking through a cloudy sky. I was alone, but after getting to know you and now more than 4 yaers later. I Love you still Emmy!
From: Cheyanne Siefert
To: Cody Harris
From the first time we kissed I knew I was loved even when I don't cook Mac n cheese just right or turn your shirts inside out before I hang them up you still look at me with the love in your eyes I'll never find in another man even tho I'm 6 months pregnant you seem to love me more I love you:)
From: Kristin Muma
To: Corey
You have stood by me through everything life has thrown our way and together we have accomplished so much. The last 8 1/2 years have been amazing and I couldn't love you more!
From: Rebecca Palmer
To: Steve Collins
You are the love of my life, you are the reason I'm alive, when I think of how you saved me I go crazy. I've never found love like this, it fills me with a new tenderness, and I know your in my soul, your all I can resist. You are the love of my life.
From: Amy Veres
To: Joe Bump
You are so special to me! You have been such an amazing role model for my son and you treat him as your own! I'm so thankful you have came into our lives! I love having you love me!! Your so amazing!!!
From: Hope Goodwin
To: Tony Goodwin
You are my best friend, the one I can always lean on! After 16 years you are still the one I can count on for everything. I love you to the moon and back and I always will! Thank you for loving me so much! You are my one and only love! Xoxo
From: Donna Lemmer
To: Brian Lemmer
From our very frist date I knew there was no one else in the world I was meant to spend my life with. Thank you for loving me and making me your wife. You have made all my dreams come true. Happy Valentines day sweetie.
From: Sandy Courter
To: Ray Courter Sr.
It just gets better everyday, little things you do and say. Ray, for 25 years we have celebrated together, Roses, and candy, dinner, and a movie. Doesn't matter how we celebrate, as long as we celebrate together. I love you Rain~man. To the moon!
From: William Joiner II
To: Jennifer Jo Joiner
Sweetheart, i proposed to you over 19 years ago & have never looked back since! I love you with all my heart & soul! you are the most wonderful wife, & mother to our kids i could've ever asked for! I LOVE YOU! Love forever & always, William C. Joiner II
From: Stacey McMaken
To: Michael
13 years together, 5 kids, and many memories. Heres to many more, Happy Valentine's Day. Love you much.
From: Betty Hurley
To: Dan Hurley
My husband Dan and I dated in highschool 20 yrs ago. We went our separate ways for a few yrs but somehow god brought us back together. Our wedding song god bless the broken road says it all. I love you more and more every day I love you soo much!!!
From: Stacey Westendorf
To: Todd Westendorf
Valentines day is so special. cause that is the day I married my love. you are the best thing that ever happened to me. Thank you for be a loving husband and dad to my kids. I do not want to go thru this life journey with anyone else. I love you.
From: Jason Manke
To: Sara Manke
To my one and only true love. We have been though some rough times but our love has always kept our marriage strong. Love you to the Moon and back.
From: Ryan Armstrong
To: Jessica
I love you so much, we have been through so a lot, but it can only make us stronger. We through ups and downs. I've made a lot of mistakes and I will grow and learn from those mistakes. Ever since I met you from day one, I knew you were special. I love you
From: Andrew Craig
To: Bailey Jane
Still you are my friend
But you are also so much more
The mother to my children
The one that I adore
From: Jason Dinkelmeyer
To: Taryn Kannally
This Valentine's Day, my girlfriend will be finding out the date of her second heart surgery. She's been so strong, and so inspirational through this entire process & her optimism and strength is contagious! Happy Valentine's Day, babe, I love you so much
From: Lorrie Mosher
To: Lloyd
Happy Valentine's Day to my wonderful hubby, Love you so much!:).
From: Mike Wallace
To: Penny Wallace
you are the most special person i no we meet 35 yrs ago & went are seperate ways after we had a daughter 16 yrs later the good lord brought you back into my life I can never tell you how much i love you so i&ll just keep trying to show every day of my life
From: Ryan Armstrong
To: Jessica
From the first time I saw you I knew there was something special about you. We have had our ups and downs. I haven't been perfect but ill learn from my mistake. I am thankful that you are in my life and I love you forever and always :)
From: Tim Weaver
To: The lonely
I hope all who are seeking find love and happiness this Valentine's Day! :)
From: Roxanne Topham
To: Todd
We first met in 1978 when we were in fifth grade. I've had a crush on you ever since! So blessed to call you my husband and my best friend. I love you!
From: Curtis Lundberg
To: Maddie Rossen
I love you Maddie! Happy valentine day! The first time we talked we had a lot in comin. I love Maddie!!
From: Angie Parsons
To: Dan Parsons
Dan: You can't even begin to imagine how much I adore you & appreciate you. You are one of the hardest working, loyal, fun-loving people I have ever met and I am SO proud to be your wife. You are my world - thanks for loving me back. Happy Valentines Day
From: Mark Hanlin
To: Angela Sue
Without a doubt, the very best thing that has ever happened to me in my entire life is You! My life has been better, richer, more fulfilled and the Love I have is deeper for you than anyone else I could imagine. You are my best friend, my lover, my HOPE!
From: Autumn Roberts
To: Matthew Hayes
After all these years of not seeing eachother you still fall in love with me.thanks for being there for me and being a wonderful lover.
From: Darian Hall
To: Jeff Friend
You're such an amazing, true gentleman. I couldn't ask for anyone better than you to have come along and help me realize everything I've been missing. I hope we have a long time ahead of us. Falling for you even more every day. Thank you honey. :)
From: Barb Squires
To: Family
My husband, Rick. My children and grandchildren. You are my world, my heart and my soul. I was blessed with the best family in the world and I am thankful every day for each and every one of you! Love you all so much!
From: Rick Squires
To: Barb Squires
To my one and only true love. You are my heart, my soul..........my Valentine. I love you.
From: Andrea Torrey
To: Bradley Torrey
To the love of my life,which you always have been and always have be.My life has changed forever since the day I laid eyes on you.You were truly love at first sight! I am looking foward to spending the rest of eternity with you and our beautiful children.
From: Jason Cain
To: Sonnie Cain
I just want to say Sonnie Cain you're my baby you're my wife you're my lover you're my everything I can't go a day without seeing you, hearing you touch you feel you, I love you very much and I hope to make everyday better for u.
From: Lis Ei
To: Mom & Dad
Happy Valentines day.
Thank you for all that you do for us.
I love you
From: Maria Tuyls
To: James
You are my heart, my life line that I cling too. With you it was instant chemistry. My hearts never smiled so hard, loving you fun
From: Candra Rustad
To: Corey Rustad
You are an amazing, loving husband, father and stepfather. Each and every day I grow more and more fonder of man you are. You have given me and our children more than ever expected. I love you, we love you!!
From: Joy Cunningham
To: B
You stole my heart the first time that I saw you. You make me smile when all feels lost,you keep pushing me to be all that you know I can be because for some reason you see me as being perfect. You're the man that I want to stand toe to toe with forever!
From: Carissa Barnett
To: Max Lee
It seems like time has flown by...8 months later and I am so madly in love with you! You have changed my life and made me a better person. You truly are the reason for the smile on my face everyday! I love you baby!! Only you can love me this way
From: Ron W
To: Kathy P
we have known each other for a year and a half. In that time I have gotten to know a woman who has captured my heart. I hope to hold yours one day. Until then I will build your trust so that you will give me yours to love for a lifetime.
From: Russell Maxwell
To: Cindy Barnett
I know its only been a short time but it seems like i've known you forever.I LOVE YOU now and forever.
Russ